~ also known as ~
COOL SHIT TO GIVE PEOPLE FOR CHRISTMAS
DISCLAIMER, blah-blah:  None of this content is sponsored.  These are just my thoughts and opinions.  If you don't agree…  There is an ass for every seat, etc., yadda yadda.  Images are borrowed from relevant websites.
•
Gift giving (and receiving!) is one of my all-time favorite things.  Finding *just* the right gift – for mother, lover, friend, colleague – especially for Christmas, is a treasure hunt I've always enjoyed.  As I've gotten older, the who/how/what of gifting has changed significantly for me, which has – in some ways – made things easier.  But as time passes, gifting has also – in other ways – gotten a lot more difficult.
This year I was particularly challenged by a few people on my list, but in my search for The Right Gift for them, I ran across some really awesome things to share with you.
Sharing the awesome.  That's what it's all about.
(The world would be a better place if we all did a little more of that, eh?)
So, without further ado:  Here is your Holiday Gift Guide Full Of Awesome for 2016.
TOP PICKS:  SHOP LOCAL
Community can be defined a multitude of ways, and one of the things I love about this community – this online sex positive blogging community to which I belong – is that there are so many creative and talented people who are a part of it.
Woodworking requires patience and perseverance.  Therefore it came as no surprise to me when a fellow blogger, who demonstrates both of those qualities regularly in his life and relationships, shared that he has spent the past several months engrossed in the activity.  His blog handle is John Brownstone, and while he does have his own site, many of you will recognize him as Kayla Lords' other half.
The shaving set pictured is from his etsy site (sorry, it's no longer available; I bought it! – but you could always ask him to make one for you), where you can find wooden shaving brushes, bowls, pens (also available in acrylic), wine stoppers, bottle openers, and other creations, all very reasonably priced.
He talks about his craft and has photos of other offerings here, and his store can be found at https://etsy.com/thewooddom.  And for those of you who are into spanking, John also makes high quality wooden paddles that can be purchased through Kayla's shop.
•
There are several fantastic books written by bloggers (see also: Leaving Normal and Furiously Happy), and Girl On The Net (GOTN) has a fantastic offering called How A Bad Girl Fell In Love.  I bought it when it was first released, and it was well worth the price.  You can read an excerpt here to get a feel for the tone and content, but lest you walk away from that reading thinking it's ALL SEX ALL THE TIME, let me just say…
This book is so much more than sex.  It's full of reflection and self awareness, and for every Oh my Gawd that's hot, there is a cringing No no no she didn't and a heart-tugging But why?  It is full of love and life and pain and humor.  GOTN writes with a 'so it goes' attitude that made me tear up in some places and belly laugh in others, and her 'Aw, fuckit' from-the-hip style made me feel like I was part of her story from the beginning.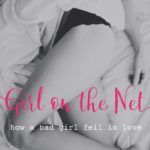 The official description (found at Cole's) reads:  Part confessional, part drunken-rant-on-the-bus from the writer of one of the UK's most popular sex blogs. Guiding readers through the lessons that a thirty-something sex blogger has learned about sex and love, the journey begins with a happy ending and goes swiftly downhill. The book dismantles some of the myths about romance as she learns to understand her own relationship, family and personal issues through stories and weird facts gathered from three years of sex blogging.
My own summary would be…  How A Bad Girl Fell In Love is a past that manages to look to the future, and it leaves an impression that is as exact as it is abstract.  It is sexy and funny and honest and real, and at it's heart it is a love story unlike any I've read before.
If you haven't read it yet, I highly recommend it.  Get one for yourself or send one as a gift.  It costs £14.95 plus shipping ($29-ish total to send it to a US address).  Get yours here.
* * * * * * * * * * * * * * *
THE REST OF THE LIST
BLING THINGS:  Diamonds and pearls are common adornments given at Christmas time, whether in anticipation (engagements aplenty) or commemoration (how many years have we been together?), congratulations or appreciation.  And while both are beautiful – separately as well as together – there are other stones that appeal.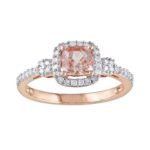 One of my favorites this season is morganite.  A sparkly stone with a pinkish hue when set against rose gold, morganite is a warm complement to any skin tone.
The ring pictured is cushion cut, framed with 1/5 TCW diamonds, and is currently offered at a sale price of $450.  If the look appeals but the piece or the price doesn't, do some research and check with your local jewelry stores or jewelry artists to see what you can come up with.  Necklace, brooch, earrings, comb…  Be creative!
NOTE:  I always recommend gold settings for jewelry, but there are often less expensive options available in sterling silver, or in plated metals.  Tungsten and titanium are being used more and more often for jewelry as well, and are durable options for rings, especially for people who work with their hands.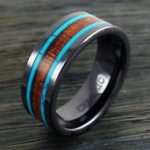 And if you need to avoid metals due to allergies, are looking for something simpler, or are on a limited budget, there are stone-less and metal-less options available in the form of wooden and ceramic jewelry, ranging in price from under ten dollars to over $500.  The piece pictured is polished ceramic with koa wood and turquoise inlays and is currently priced at $15.
What's great about a piece of jewelry like this is that it can serve any function (promise ring, fashion ring, pinkie ring, sibling ring, friendship ring, wedding ring… the list goes on) and would be as appropriate to give to your dad as it would be to give to your best friend.
ON THE SHELF:  I realize I've already given book recommendations above, but this one is worth mentioning separately.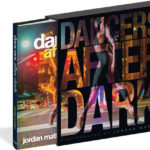 Dancers After Dark is filled with stunning photography, and is available in both hard- and soft-cover editions.
No clothes.  No arrests.  No regrets.
With a tag line like that, who wouldn't want to have a peek inside?
Dancers was released in October and the limited edition cased hardcover contains a frame-able 8″x11″ print.  The list price is $50 ($19.95 for the softcover edition), and it's available both online and in book stores.  If you are able, whether purchasing this book or another, I encourage you to support your local independent bookseller.  If purchasing online, I encourage you to do so through IndieBound.
GET OUT AND PLAY:  Generally speaking, I am not a big fan of gift cards.  However, sometimes they are the surest way to give an experience, and I am all about experiencing life.  This time of year many outfits offer discounted pre-purchased packages for everything from plays to mountaineering expeditions, symphonies to white water rafting excursions.  Often those packages are presented in the form of a (gift) card or voucher.  And those kinds of gift cards get me all kinds of excited.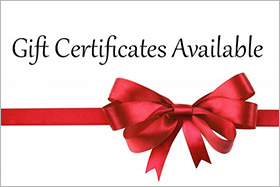 Also, tickets for future performances can be had at discounted prices right now, and giving them as a gift is a great idea.  Several venues offer shows between Christmas and New Year, so if your loved one is opening a gift of tickets, you don't have to worry that they will lose them between Christmas morning and showtime.  Just get tickets for sometime between December 26th and 31st, and know that they can take advantage of their outing immediately.  Even better if you're part of the gift as well.  Spending time together doing adventurous, enriching things is FUN and it benefits your relationship.
And if you're traveling over the holidays, look into City Passes or check out what's on offer in the city you're visiting.  Graveyard tours, operas, boat rides, museum passes, lectures…  There's plenty to do in most cities if you just know where (and how) to look.  And if you're traveling on a budget, there are often free entry days (especially for kids) or reduced fares available during specific times if you want to visit the aquarium or art museum, and there are plenty of inexpensive outdoor options for entertainment if you take the time to explore state parks or river walks.
And last but not least…  (These don't really need an explanation, do they?)
THE SEXY
THE SILLY
And,
THE PRACTICALLY PERFECT IN EVERY WAY
(Wot? Were you expecting a picture of Moi?)
There are obviously gazillions of styles and tastes and preferences, and we all have different ideas about what makes a great gift.  These are a just few of mine.  If you find any of these ideas helpful, feel free to use them!  Or if you think someone else might, please pass them along.
How about you?
What great gifts did you find this year?
What would you most like to receive?