Because nothing says 'Merry Christmas' like a bunny suit.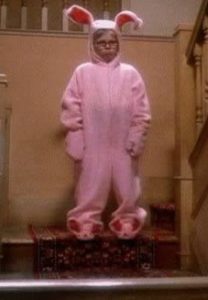 Heh.
Sooo… 
Welcome to another edition of 'Feve Gone Wild'.  (Or perhaps, 'Feve's Brain is Fevered'?)  Our first installment featured sex with a dragon.  Today, we'll be sexing bunny style.
Proceed at your own risk.  Strange possibilities lay beyond this point.  Don't say you weren't warned.  Etcetera.
A little background:  So there's this thing I do with my nose.  It's rather like Samantha's nose wiggle, except it's more like a little flare-y twitch.  It's my bunny nose.  This is something I have done involuntarily for… 20 years?  Longer?…  And every sex partner I've ever had has been subject to my rabbit-y sniffer.  Because my bunny nose activates when I (a) find something humorous, (b) am turned on by something, and (c) get all sneezy because cologne and I do not get along.
Add to the bunny nose the fact that my first love called my pussy "the rabbit" and that another former lover nicknamed me Bunny, and there are bound to be some hare-y notions that start getting into your head.  (Okay, okay…  Not your head.  My head.)
'Kayso…
Last night over video chat:
Me:  You know that song, I Want To Fuck You Like An Animal?
Him:  Yeah…
Me:  Only if we can fuck like bunnies.
Aaaaaannnnnd…  We're off!
So all last night (in my dreams, hello) and still this morning, I'm thinking about fucking like a bunny.
Like, having sex as a bunny.  Wearing a tail and ears and paws.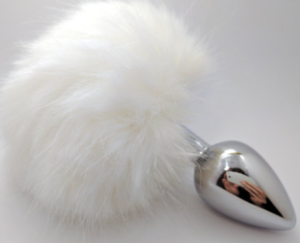 .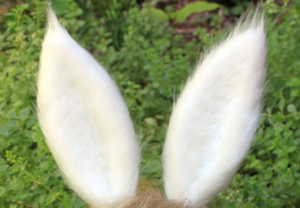 .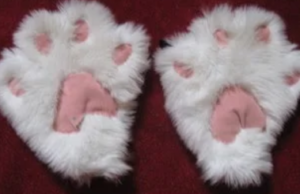 .
Would that not be sexy as fuck?
Can't you just picture it?  No?
I can.  Oh, yes I can…
Me on all fours, my plugged ass wiggling, little white fluffy tail twitching.  Paws out in front of me, the lack of oppose-able thumbs preventing me from gripping whatever surface I'm on.  The bed?  The floor?  Outside in the grass?  Oh yes…  That's it.  Outdoor bunny sex.  In an area secluded enough to get away with it but public enough to risk getting caught.
Unf.
Him, behind me, leaning over me to prevent me from rabbiting away, trying to keep me still so he can fill my tight pussy with his cock.
And it will be tight.
T i g h t.
Because I'm tight anyway (pc muscles!), and having my ass and my pussy fiilled at the same time is a stretch.  (Literally.  A stretch of the oh-my-God-no-way-is-it-all-gonna-fit variety.)  And it's been a looooong time.
Hmmm…
Will he have bunny mittens too?
That would feel amazing.  Soft soothing pets across my back while he's stretching me full with pleasure-pain.  Muted thuds on my ass when he spanks me for trying to get away.  Something plush to nuzzle when he reaches forward to stroke my cheek.
I can picture…
…sitting part way up, pushing back against him with my head back, my bunny ears soft against his shoulder.
…turning around and riding him while he's in a seated-on-knees position, wrapping my legs around him, squeezing him tight inside and out.
…plugging his ass with a bunny tail and using my paws to stroke his cock until he's begging to cum.
…having him lie back while sucking our sweet syrupy mingled mess off his cock, my paws pushing his thighs open, my ears tickling his tummy, my tail twitching in the air.
Mmmm…
So many possibilities.  Perhaps I will try a few.
Heh.
Just call me Fever Cottontail.  😉 🐰
.
How about you?
Do you have "animal sex" fantasies?  Do tell!
.
IMAGE NOTES:  Ralphie still from the movie A Christmas Story abound on the interwebs.  Credit technically belongs to the director, Bob Clark, and to the studio, MGM.  Bunny costume pieces screenshotted and cropped for my own purposes.  Tail and ears found on etsy.  Paws unknown.  If the original images belong to you, please contact me for accreditation or removal.