And here, we have Sartorial Kitty.
(Because why should dogs have all the fun?)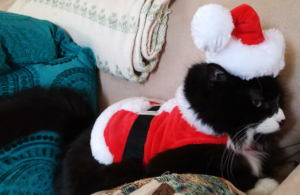 MEOWY CHRISTMAS
from Santa Claws and his Feverish people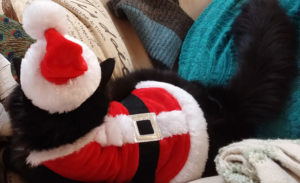 .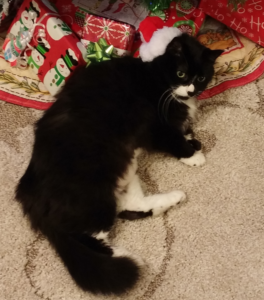 .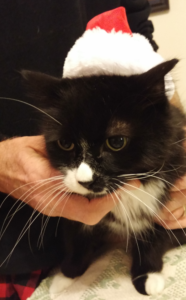 .
Note:  No kitties were harmed in the making of this post.  But one kitty was incredibly annoyed.
♥
Thus ends the week of sexy festivities (sextivities?) at Blog de la Feve.  Come January, I will have been blogging (now on my third format) for five years.  The fact that some of you are still with me from way back then means a lot.  And to those of you who have joined me along the way:  I sincerely appreciate your interest, enthusiasm, and support.
To celebrate the awesomeness of You (yes, you!), as well as to show support for my fellow writers and creators in the sex-positive blogging community, I wanted to do something special this holiday season.  So I decided to do a post a day for the week of Christmas.
Ooohhhhh… you are thinking, so that's what this writing frenzy has been about.
Well…
To put it simply:
Yes.  🙂
It's been about YOU.  🙂
I hope you've enjoyed what you've seen.  And in case you missed it, the week's sextivities are as follows:
Christmas is Coming
Visions of Sugarplums
Naughty or Nice
Preparation
Fever Cottontail
Tinsel Tunes
and, of course, today's Christmas kitty
Some of those posts link to memes, or to prompts provided by other bloggers.  If you see a badge/button on a post, and you are looking for some sexy stimulation, please click through and read a few of the offerings available therein.
Whatever you are celebrating at this time – whether it be a personal achievement or a world holiday – I wish you joy and peace in the practice, and all the best in the coming year.
xoxo,
Feve