Do you like high heels?
I already know some of my husband's feelings on heels – or, at least, his feelings about me wearing heels – from the way he responds to me physically when I don certain pieces of footwear,  but I've been contemplating the subject in a general sort of way lately, and I'm curious as to how (or if) he thinks of them.
And so I ask.
I ask him the question without explanation or context, with no particular expectation of where this conversation will lead.  It's one of the things I do regularly in our relationship.  While he typically responds well to my "I want to try"s and "I really like"s, I've found that he also responds… interestingly… to my "What do you think"s and "Do you"s.  What do you think of corsets? led to an interesting conversation once.  As did Do you masturbate in the shower?
"Do you like high heels?" I ask.
He blinks.  Pauses a beat before answering.
Then:  "You mean, like, stepping on me?"
.
.
.
. . . OH.
Ohhhhh…
Well now, that *is* interesting.
I'm *SO* glad I asked.  🙂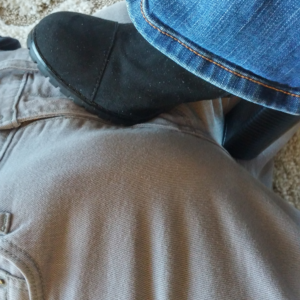 Obviously we have some things to discuss…
.
.