Uhmmm…  WHY?
No, seriously.  It's a legitimate question, and it's the second one that consistently pops to mind when people contact me with questions about sex blogging.  (The first being, "Why are you asking ME about this?")
And typically, when I ask people the WHY? question, I get a response something along the lines of:
Hoo boy.
Look, I'm not saying you have to have a 60-minute PowerPoint presentation prepared on the merits of sex blogging or have rehearsed a 1,000-word spiel about What Makes You Such A Special Sexy Snowflake.  I'm just saying, If you're going to ask advice on something – any something – you should at least have half a clue why you want said advice.
So if you're thinking you want to be a sex blogger, but aren't particularly clued in to why you want to be one, here are some ready-made pick-a-reasons for you:
I have a smokin' hot bod and think everyone should admire it.
I have a lukewarm average bod and think everyone needs to get a clue about the fact that that's what's normal.  And a little admiration wouldn't hurt.
There are no good wo/men available in my town/city/state/country, and I want to use my blog to attract a partner(s).
I'm an exhibitionist.
Writing helps me work out my issues, and I have 14 therapists' worth of issues with/about/around sex and sexuality.
I thrive on external validation and this seems like an easy way to get attention.
I'd like to write for money but nobody knows who I am, so I need an outlet where I can write for free to get my name/style/opinions/ideas/stories out there.
Sex bloggers get free stuff from sex toy companies.  Sounds good to me!
My inner galactic princess needs an outlet for fucking the universe with her two heads and 17 hands.  Bring on the Martian forehead fucking fantasy!
I went looking for resources and couldn't find any.  Maybe I should be a resource.  I mean, I fantasized about buttfucking once.  That makes me an expert, right?
Insert other reason(s), here:  _______________.
Are a few of these ideas slightly exaggerated?  Yep.
Are they patently false?  Nope.
So if I was going to give advice (and I am not particularly known for advice-giving, so consider this NOT ADVICE), I'd say:
First, figure out why you want to write a sex blog.
Your motivation is your own; there is no "correct" motivation, because we are all motivated by different things.
One person's answer to Why? may be that they are living a double life (think: paying for sex behind a partner's back, fantasizing about kinky things for which you have no real-life outlet, living within the societally accepted boundaries of heteronormativity without fitting the mold, etc.), while another person's Why? may be linked to self-expression through art (i.e., drawing, photography, storytelling) or a desire to educate (about safe sex practices, consensual kink, trans-identity issues, or sexual politics within a specific community, for example).
Whatever your Why?, it is your own.
And once you have that figured out, consider this:
What purpose will it serve?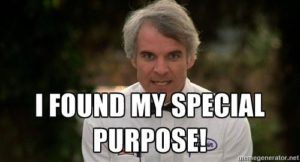 What purpose will your blog serve?  Do you want to:
Educate?
Inform?
Entertain?
Confess?
Perform?
Are you seeking to normalize certain things (body types, relationship styles, kinks)?  Do you want to share your expertise?  Would you like to create an open-forum type community for people with similar experiences?
Maybe your purpose is personal.  Do you want to document your journey?  Are you journaling to process your feelings?
Perhaps your purpose is professional.  Are you looking to obtain new clients?  Do you have goods or services you are selling?
Your purpose might encompass a variety of "wishes" and you may wish to tackle an number of topics in pursuit of those purposes.  That's okay.  If that's the case, you might want to think about establishing a Primary and Secondary structure for yourself in determining your content.
In my opinion, blogs that "flow" (for lack of a better word) the best are blogs that stick to their purpose, no matter the topic.  For me, keeping my purpose(s) in mind helps me not only decide what to write, but also how to write it.  Having a purpose – not only on a post-by-post basis but also as an overarching motif for my blog – helps keep me on track, and impacts the overall 'feel' of the blog.
What's your focus?
But, you are wondering, aren't you just repeating the previous question, Feve?
NOPE.
Your focus and your purpose are, in all likelihood, related.  (At least they should be if you are looking to establish continuity.)  But it's more like the former is a specialization of the latter.  Some examples:
1:   Your purpose is to educate and your focus is safe sex practices.
2:   Your purpose is to create via storytelling and your focus is to do so through poetry.
3:   Your purpose is to normalize kink and your focus is FemDom relationships.
Do you see the difference between purpose and focus?
And if your purpose is personal – as mentioned above – this still applies.  If you're journaling to express your desires, your focus might be on self-acceptance.  If you're writing your blog to process your feelings, your focus may gear toward clarity or healing.
Just as it is okay to have more than one purpose, it is also okay to have more than one focus for your blog.  But if you want to start a sex blog and haven't figured out any of these things yet (or already started one that is now flailing due to lack to clear direction), now is the time to start asking yourself questions to determine where you want to go with it.
What else?
Now that the hard part is figured out, it's just a matter of details.  Some of those details are more important than others, and how they rank will vary by individual.  A few things to consider:
Is my spouse/significant-other aware of and/or involved with my blog?
Should I identify myself or write anonymously?
How much information am I providing about myself and my partners?  (Think:  Confidentiality)
Should I use real-world contact information to establish communications on my blog?  (Think: SAFETY)
Am I using a free blog space or paying for my own url?
Is my site secure?
Are my bitland interactions trace-able to location?  (Again:  Safety, people!)
What types of images should I use?
Are there copyright and/or trademark issues I should be aware of?
There are pretty much a gazillion and one things you can/should/might/could take into consideration.  Posting schedules, social media presence, audience interaction expectations, monetization, branding…  The list goes on.  Some things are mandatory to address in a pre-emptive fashion, others are minutiae that you can take care of on the fly.
Don't let the little things divert you from your big blogging goal(s).  Take your ideas wherever they may lead.
And once you've got an idea where you're going…
READY, SET, BLOG!
Any questions?
.
NOTES:  I've had the Doge meme stored for a while; I'm unsure who created it.  If this image is yours, please contact me for accreditation or removal.  The "I don't know" and Steve Martin memes are credited within each image, though the rights to the Steve Martin still from the movie The Jerk belong to Universal Pictures.  The "focus" image is credited with embedded links; please click through to view the originals.