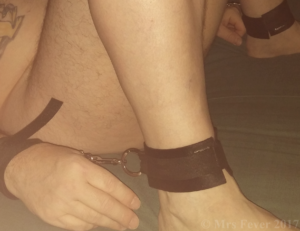 Bare skin and firelight, backlit with the silver dim of cold blue dusk. Bands of black and metal clasps. Warm flames dancing across shadowy figures in chill air.
Camera.
Fireplace, fold-out couch, black-out mask.
Free hands positioning bound limbs.
Click.
Click.

Too dark, too bright, wrong frame. Back up, close in, adjust flash.
Adjust flesh.
Trailing fingers, intakes of breath. Waterfall kisses spilling streams from lips.
Hard.
Click.
Wet.
Cool lips, plump nubs, searing urgency. Tongue velour soft spiraling sharp pricks of pleasure-pain skittering under skin.
Fists in hair, mouth at nipple.
Pull.
Tug.
Gasp.
Sigh.
Too hard, too much.  More.
Black blindfold, suckling pink.
Click.
A speechless nudge of cheek against thigh.
Cream.
Straddle.
Press.
Grind.
Bucking hips and desperate cries.
Lick.
Suck.
Taste.
Camera, camera… Do we have a camera?  What the hell is a camera?
Fumble.
Reach.
Need.
Cuffs?
Unclick.
Flip.
Rough fingers, tender flesh. Twisting demand scissoring deep. Scoring, atavistic heat.
Trembling thighs, tightening slick. Moaning need met with firm insistence.
"Cum for me."
Fuuuuccck…
I miss the way we click.