After our long-distance shared-cam cum and goodnight goodbyes, after my muscles have been spent in the splayed-leg seeking of pleasure and my limbs have stopped trembling from the finding of pleasure sought…
After the high climb, the over-edge plunge, the weak-kneed barely-wake that follows…
Afterward…
Sleepy and sated, I switch apps on my phone, point the camera, and click.
It is a snapshot meant to be sent, a thousand-mile "Sweet Dreams" kiss, the pixels a not-replacement – a photo for him, from me – of tender ministrations from bitten-pink lips.
But when I look, I see something else entirely.
My own image arrests me between the snap and send, and I am stricken – with both alarm and arousal – by what I see:
Skin ~ age-grained and freckle-flawed, accented in the harsh highlight of yellow-flash dim
Hair ~ tousled kinks and softly falling curls haphazardly frame the outline of a self-satisfied Cheshire-cat-got-the-cream smile
Lips ~ alternately dry and damp, still faintly lined from the cosmetics I so rarely wear and tooth-marked from my own lick-over bite-out of NeedToCum from moments before
Close-up, my critical eye catches every detail, dissecting all the wrongs.
But when I back away, taking at a glance the whole from the parts, I  can see what's right.
I see…
ME.
In a way I haven't seen myself in a long, long time.
There you are, I think to myself.  My Self.
For once, I recognize Me in a photograph of my person.
I see strength and satisfaction and a semblance of silly-grin artless seduction; I see quirked-bow lips, age-blemished imperfection, and drowsy delight.
The woman I see staring back at me is ME – the Me it's such a rarity to see – and I am…
A delectable mess.
Perhaps it is the height of vanity – or perhaps I have (finally, fretfully) stepped the first rung on a long ladder-climb toward self-acceptance – but it is a long time before I take my eyes from my own image.
When I do, it is with two thoughts in mind:  (1) Where have I been hiding?, and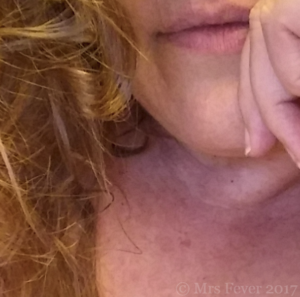 (2) I wish I could figure out a way to share my own kiss.