(and other questions whose answers are imperative to maintaining order in the universe)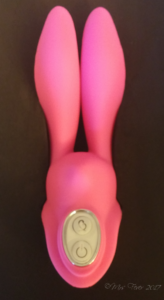 Meet Belle.
Belle is a sex toy.  A fun pink buzzy novelty of a sex toy.  Made of velvety silicone and shaped like a bunny, Belle is…
Adorable.
Adorable, and completely useless.
Completely.
Oh, sure Belle WORKS.
The ears are even insert-able if one wishes to take the time for some plastic gymnastics in the middle of a wank.
And the 'nose' could sort of work as a button to vibrate a lady's…button…if, y'know, the controls were on the back side of the vibe.  Which…  They are not.
The thing is, as sex toys go, Belle has possibilities.
Or she *could* have possibilities anyway, in the right hands.
Those hands, however, are not mine.  Apparently.
So, cute as she may be, I need to get Belle the Bunny off of my hands.
Which begs the question:  What does one do with sex toys that are just…  Not?
I could continue to store her in a drawer, I suppose.  It's where Lil Miss Bunny has been for almost three years now, after all.  But that seems so…  I dunno, useless?
I pretty much never have company (see definition: introvert), so I could probably safely display Belle on any surface in my home and get away with keeping her there indefinitely, like a piece of vibratory installation art.  (Other people might call that kind of thing a 'conversation piece', but to have a conversation requires being around people, or – specifically, in this case – inviting people into one's home.  Again: introvert.)  Or maybe I could frame her and tack her to the bedroom wall?
I just feel as though I'm being wasteful, letting her sit around unused and unappreciated.
And she's so darn cute!
BUT
Useless is useless.
And there are others.  Little Miss Rabbit-y Pinkness is not the only sex toy in my drawer that just doesn't do anything for me in my drawers.
I have two icicles (I used to have three, but I think I flat out garbaged one of them during my last move), and while I really really like one of them, the other is…
Meh.
And there is the cock sleeve that – being found obsolete due to being smaller than my husband's actual cock and therefore un-fittable – has only been used once (and not for its intended purpose) and will probably never be used again.
Also there's the (not-so) SoDivine wand my paramour sent me (he's sent me two actually, because he's sweet like that; neither functioned, which I'm leaving to him to deal with since he's the one who paid for them) that just plain doesn't work.  Ditto the guybrator that arrived in the last package he sent, in anticipation of me using it on him during his next visit.  (Not gonna happen.  No worky, no sexy.)
So again I ask you:  What does one do with sex toys when they have outlived their sex life?
Should I create a found-art sculpture from these scraps of glass and silicone?  Donate them to an organization that supports the orgasm-less?  Is there some kind of XXX recycling program?
Perhaps I should auction them for charity?
Help me out here, people!
What would you do, hmmm?