It's unobtrusive, yes.  But that surreptitious glance tells me you're wondering.  You're trying to guess.
And when your eyes steal their fleeting glimpses, following the seam of my jeans, your expressive "Is she…?" is clearly written across your features.
Hmmm…
Am I?
Would you like to know what I'm wearing underneath?
Perhaps it is a scrap of lace.  A barely there triangle, not quite covering but not quite… not.
Or a band of satin, low-slung and seamless, hugging my body like a second skin.
Thong, bikini, tanga, or briefs?
Boyshorts, maybe?
Batgirl panties?  (Or Wonder Woman or Cookie Monster or…)
Or perhaps,
Maybe,
Possibly,
Perchance,
I am wearing…
Nothing.  But.  Skin.
.
Would you like to know?
.
Oh, I'll bet you would.
.
.
.
.
.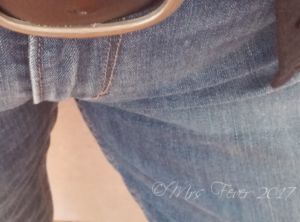 But it's so much more fun to keep you guessing.
.
.