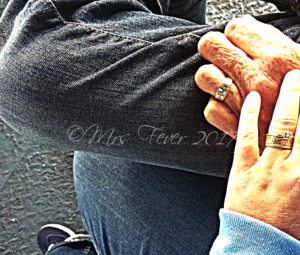 Perhaps not quite what you expected?
😉
.
Relaxing in each other's company, on the boat at sunset, holding hands.
.
.
Sometimes it's the sweet simple moments, shared, that are the sexiest.
.
NOTE:  I used a simplet edit – retro-vintage filter, set to harsh contrast – to dlineate the various shades of blue.  It gives our hands a grainy texture, but I like the overall effect.