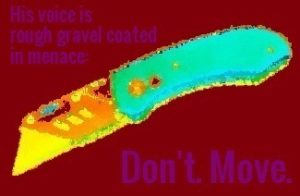 /SCENE/
The cold snick of the blade sliding into place sends a hot chill through her, and when he places the biting metal against the inside crease of her thigh, her sharp inhalation expands the held-breath air in her chest, pushing her pebbled nipples out, brushing them against the scratch-silk fabric of her blouse, making her squirm.
"Be still."
His voice, barely registering through her adrenaline haze, is rough gravel coated in menace.
His body – solid but featureless against the gray-dark of the room – is blocking hers open, keeping her legs apart.
"Don't.  Move."
She feels the press of steel – Is it steel? – against the seam of her pantyhose at the same time as she feels the press of his lips against hers, followed immediately by the sound of rending fabric.
/CUT SCENE/
†
Cutting/tearing clothing is not my kink, but – ever the curious kitty – I have taken my Have you ever…? question to one of my friends, for whom this particular activity *does* check off some 'hot' boxes.
Me:  Do you have any sexy experience with scissors?
(The thing about having the kinds of friends I do, is that you can text them seemingly off-the-wall questions, completely unrelated to your previous conversation and without preamble, and they don't bat an eye.)
Him:  I have cut clothes off Dana.
Him:  And I did slice her tights open with a box cutter.
We discuss the scissors incident for a moment – Yeah, I had to buy her a new bra after, he says with an lol.  It was an expensive session. – before getting into the inspiration for the scene written above.
Him:  The box cutter thing was a bit darker.
Me:  Like a mean guy with bad intentions?
Him:  Yeah.
A short pause, and then he continues:  I hid in the closet.
.
.
.
.
.
It takes a moment for this to sink in, then:  Oooooh…
.
.
.
.
.
FEAR.
And just like that, the broad-brush outlines he is giving me begin to paint a picture I understand.  My imagination goes to work filling in pointilistic details, creating the scene I wrote above, and suddenly I get it.
I get why and how cutting clothes could be hot, even though it's not something that's hot for me, because I get HIM.  I know him, and through him I know her, and I get their relationship.  He would do anything in his power to give her anything she wanted, and I think he's absolutely tops for taking that 'anything' to a scary-sex-in-a-safe-way level.
Me:  You're so fun.
Me: I love that you aren't afraid to embrace your own sexual creativity.
Him: I'm up for almost anything…
Yes, he is.
And that, I think, is why we understand each other so well.
We are cut from the same cloth.
.
.
Are you up for 'almost anything'?
Have you ever ripped or cut clothes off with a partner?
Do tell!