CONTENT WARNING:  There is nothing sexy about this post.  Unless, of course, you find food to be sexy.  If so:  This is an incredibly sexy post!
Ahem.
'Kayso, last year I took part in the Great Online Cookie Exchange Extravaganza (so named by its founder, Jz at A Relctant Bitch), and it was a great deal of fun — regardless of the fact that I did not share a recipe for cookies.  Because, CAKE.  (Several other participants opted for non-cookie treats to share as well.)    So this year I am continuing the non-cookie extravaganza tradition with an easy-peasy recipe for…
APPLE SPICE BREAD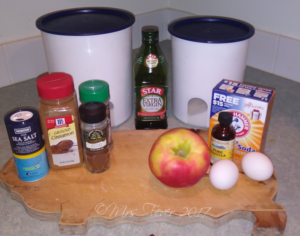 First, gather your ingredients:
1 1/2 cup flour
1 cup sugar
1/2 tsp baking soda
1/2 tsp salt
4 tsp cinnamon
2 tsp cloves
1/4 tsp nutmeg
3/4 cup olive oil
1/2 tsp vanilla
2 eggs
1 large apple (any ol' apple will do ~ I tend to use honeycrisp)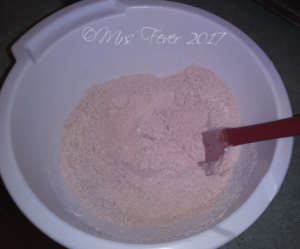 Sift together dry ingredients in medium mixing bowl.  Add oil, vanilla, and eggs.  Stir until dough is wet all the way through.
Fold in one large apple, finely chopped.  (I use a hand-crank chopper – it takes 15 seconds.)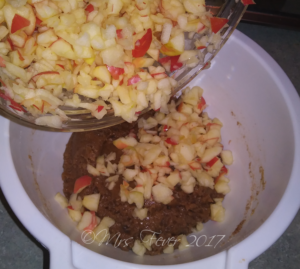 Grease and flour pan(s) ~ recipe makes two small loafs or one large loaf; I use a double loaf pan.  Bake at 350°F for 60 minutes.
Let cool for one hour, then slice and serve!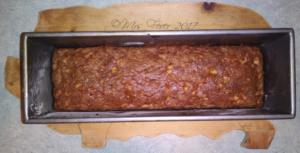 Total Prep Time:  8 minutes
Total Bake Time: 60 minutes
PREPARATION ALTERNATIVES:  For gluten-free bread, substitute rice flour.  (No change in flour measurement required.)  For alternate spicing, substitute allspice and ginger for cloves and nutmeg.  For additional variation, use diced pears, dates, or raisins in lieu of apples.  Nuts optional.
NOTE:  Bread will be moist.  It keeps well if wrapped in a double layer.  I tend to wrap wax paper around the bread, then tinfoil around the wax paper.
ADDITIONAL NUMMY-NESS:  Visit the blogs below to see who else is participating this season – you'll be in for a treat!  (And if you want to play along, you're welcome to post a recipe of your own.  If you do, feel free to link to it in the comments section below.)
Baker
Bleue
blossom
Bogey and Bacall
Cat
collaredmom
DelFonte
Ella
Greengirl
Jz
Katie
Kelly
Lindy
Ms Dixie Wrecked
nilla
Olivia
ronnie
Ryan
Sassy
selkie (recipe here)