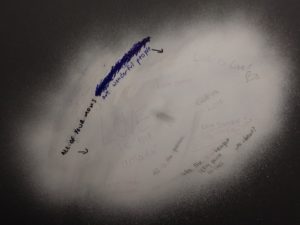 Let's pretend for a moment that defacement of nearly-new public property is not at issue here. That there is nothing troubling about the fact that somebody out there had nothing more positive or productive to do than lug a can of white spray paint into a clean(!!!), publicly accessible bathroom stall and press the nozzle down long enough to create the backboard for others' collective ungenious.
Let's pretend that blatant disrespect for shared spaces in open-to-all, tax-funded facilities is not even a thing. That this whatever-it-iz is not problematic or otherwise indicative of 128 deeper, more disturbing underlying issues in the community at large or the petty criminal at small.
Okay?
Let's just pretend, and zoom our lens in a little closer on this tiny piece of puzzling reality.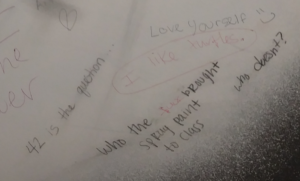 Hmmm…
Well, at least someone got the question right. 42 it is. No towel required.
As for the answer…
"Love yourself" happens, yes. Sometimes even in bathroom stalls.
But I think I'll take "I like turtles" since it's on offer.
Somehow that makes for a heart-happy counterpoint to the sadness I feel whenever I encounter such senseless destruction.
Yes. I like turtles.
Especially when they are brave enough to come out of their shells.