Step One:  Pinken/redden one bottom to the point of "beyond rosy."  Rosiness will vary according to spanker preference.  Solid, stinging wallops advised.
Step Two:  Scratch nails over recently-rosy'ed flesh to test for sensitivity.  Insufficient yelping  on the part of the rosy-bottomed scratchee during this step may indicate the need to repeat step one.
Step Three:  Swipe palm gently over rosy cheeks to check for heat.  If rosy cheeks radiate a glowy warmth, proceed to step four.  If pinkened skin is not sufficiently warm, repeat steps one and two as necessary.
Step Four:  Apply one ice cube to heated pink bum.  Rub in circles over all spanked spots until ice has melted.
Step Five:  Photograph the results.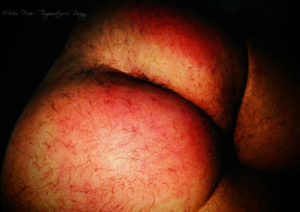 .