(and other questions whose answers are imperative to maintaining order in the universe)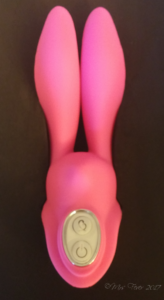 Meet Belle.
Belle is a sex toy.  A fun pink buzzy novelty of a sex toy.  Made of velvety silicone and shaped like a bunny, Belle is…
Adorable.
Adorable, and completely useless.
Completely.
Oh, sure Belle WORKS.
The ears are even insert-able if one wishes to take the time for some plastic gymnastics in the middle of a wank.
And the 'nose' could sort of work as a button to vibrate a lady's…button…if, y'know, the controls were on the back side of the vibe.  Which…  They are not.
The thing is, as sex toys go, Belle has possibilities.
Or she *could* have possibilities anyway, in the right hands.
Those hands, however, are not mine.  Apparently.
So, cute as she may be, I need to get Belle the Bunny off of my hands.
Which begs the question:  What does one do with sex toys that are just…  Not?