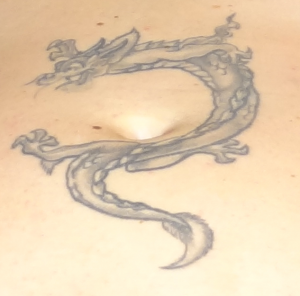 I'm tired tonight.  Not the kind of tired that is bone deep, but the kind that is just deep enough.  Deep enough to drift but not dream, to gaze but not see.
And so gaze I do.
At my belly button.
Propped against my pillows, shoulders slightly elevated, I look down my torso and contemplate my navel.
Tracing my fingers over my dragon tattoo, I let my eyes trail where my fingers lead.  In slow sweeping motions, my fingertips follow the contour of my ink, and I watch as though from afar while the pad of my ring finger swirls around the edges of my belly button.