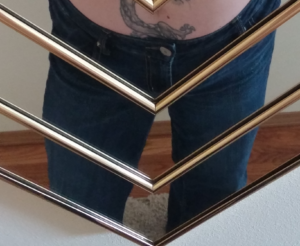 Jeans are like cocks.
They come in all different weights, colors, textures, and sizes.
And it feels damn good when they fit just right.
Jeans.
There's just something about denim.  The way it's rough when its new but softens and molds to my form over time calls to mind the hand of a learning lover and the comfortable confidence of an ever-more-familiar friend.  It's east coast attitude and midwestern sensibility, southern charm and California cool.  Denim can be stiff or stretchy, lightweight or heavy-threaded, loose or tight.  It's durable and practical and can be dressed up or down for almost every occasion, and it is – by far – my favorite fabric.
Jeans are, in a word, sexy.
But they have to fit.
Too snug, too high in the waist, too short, two sizes too big…
No.  No, that's not sexy at all.
But when they FIT…
When they ride just below my belly button, flowing loose-legged, softly stroking my skin when I walk, I feel good.  Comfortable, capable, confident.  Paired with Vans or Lucchese boots or five inch Juicy suede heels, I can wear them for anything, from field work to stage performance to kinky explorations, and feel damn good doing it.  Black skinnies with ballet flats for the classroom, soft-worn bootcuts with trainers for a trek in the woods, or cut-offs with flip-flops for a day of fun in the summer sun; jeans are uniquely multi-purpose, and they work and play as hard as I do.
I feel good in jeans.
And when I want out of them…
Or want to get my partner out of theirs 😉 …
The unbuckling of the belt, the slide of leather through loops, the pull of denim over hips…
The seduction, the urgency…
Taking them off?
Yes.  That feels damn good too.
.
.
To that end:
.