By special request.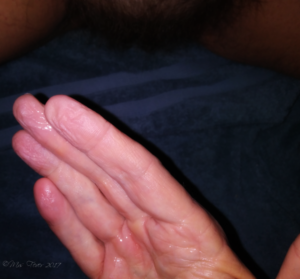 This photo was taken in the aftermath of the sexy times I wrote about during my celebratory post-a-day* Christmas blogfest.  It's a bit difficult to see how wet his hand is, but if you take the visible glisten and magnify it by about 17, that should give you an idea.  (And I absolutely LOVE that his fingers are prune-y because he was inside me so long.  😉 )
.
.
* If you missed it, and are in need of a little…something…the posts were as follows:
Extremities
Diminutive
All the stockings were hung by the chimney with care…
Four-Finger Fucked (mmmhmmm…)
Merry Melodies
Holiday Cheer
Winter Wonderland
.
And if you still want MORE…
Links to last year's week of Christmas sexiness can be found here.
.
HAPPY NEW YEAR