At least, that's what he told me.  In excited tones, no less.  Waving his arms about and grinning like a lunatic.
"She's giving me her gonorrhea!"
*blink*
*blink blink blink*
You can understand, I'm sure, why any sort of verbal response would be beyond my abilities given this shocking bit of information from my spouse.  Especially in the face of his obvious excitement.
"Uhhh…?"
The fact that he was jumping for joy clued me in to the fact that he was definitely not talking about venereal diseases.  So I discarded my When did you decide to fuck the neighbor? line of thinking and focused instead on what I know of mi esposo fabuloso:
He pronounces things wrong.  All the time.  It's a thing.
He's mad in love with all things plant-y.  If it has stems or stalks or leaves or flowers or might possibly grow out of the ground, he digs it.
He's not remotely interested in having sexual relations with the neighbor.  And even if he was, that'd just be too damn bad.  Because, rules.
So, being the quick-witted person that I am, I combined some rapid thinking with my rapid blinking and asked, "So…  This gonorrhea…  Where are you gonna put it?"  (Heh.  Sounds a bit kinky.)  "It's a plant, right?"
Ding-ding-ding!  Feve gets it in one.
.
He put it here: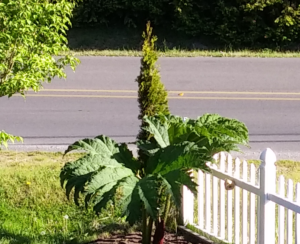 . . . which means the cypress has to be moved.
And that fence is three feet high, yo.
(And Smotch needs to mow.)
.
I told him I think we should name it.  'Gunnera' would be too literal.  I mean, that's what it is.  And 'Gunner' just won't do.
Not 'Gonorrhea' either.  As fun as it might be to tell people I now have gonorrhea, it might also prove to be a bit…  Awkward.
"Hi mom, just wanted to tell you about my newest acquisition.  Gonorrhea!  Yeah, it's AMAZING.  It's grown exponentially in just days."
I'm sure you can see the problem there.
I suggested we call it 'Rumpelstiltskin'.  (Though 'Velociraptor' has possibilities.  It *is* a bit prehistoric-looking.)
Hubs suggested we wait a few days to make sure we don't have to call it 'Dead Plant'.  (Apparently they are a bit finicky and don't care much for being transplanted.)  Then, if it survives, we can name it something reasonable.  Like 'Otis'.  (On this, we shall agree to disagree.  Otis is a guy who repossesses cars.  I know this, because I knew an Otis in high school.  And I'm pretty sure that's what he does these days.  When he's not skipping bail.  THERE WILL BE NO OTIS-ing IN MY YARD!)
A n y w a y
This is my new spread-y leafy…bushy…thing.  (Heh.  Oh, the places we could go…)
What would you name it, hmmm?