Do you usually feel you are better at sex than your partner(s)?
I had an interesting conversation with a partner around this question recently, as part of a larger communication exercise.  Of course, to give any kind of proper response requires a good deal of delving, because no two people have the same definitions in regards to (1) what it means to be Good In Bed, and (2) what the qualifiers would be to consider one's self Better.  And so our discussion branched in various directions.  I will share a bit of it here (hopefully in a way that makes sense), and would be interested to hear your thoughts on the matter.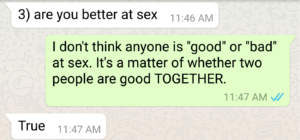 To start with, I feel I should clarify my stance on being Good In Bed:  I don't believe any *one* person is necessarily "good" in bed.  It takes two (or more; for the purposes of this post I will discuss pairings, but the concepts apply to partnerships larger than two as well) to tango, and while there are certainly skills to hone and techniques to employ, it is largely a matter not of one person being "good" in bed but rather, whether two people are good together.
To wit:  Maybe you are the most skilled oral sex giver in the universe.  Maybe you've read every Top Tips For Hot Oral Sex article ever written and you've honed your technique over decades and you truly believe, based on experience and feedback from previous partners, that you can make her scream your name to the rafters when she cums on your tongue.  And you figure, since you've been doing your daily tongue exercise ritual in the mirror every morning for three years, that you can get her to orgasm in 2.3 seconds.  
And that's…  Great?  Or at least it seems so at the outset.  
But if your partner had a traumatizing experience with oral sex in the past and cannot relax, or her clit is sensitive to the point where even a breath of air against it is painful when she's aroused, or she'd simply prefer to have your mouth someplace else…  Well, then.  All the tongue technique in the world isn't going to make you Good In Bed, let alone "better" than anyone else.  
Being good in bed is all about being compatible – in level of desire, in enthusiasm for an activity, in being open about your own interests and open to your partner's – and not everyone will be.
Sometimes there is an imbalance of experience between partners, and that comes in a variety of forms.  It can be about the numbers (he's had 57 sex partners, she's had 4, and they are the same age), but in my experience the numbers don't matter as much as What You've Done.
I've had relatively few sexual partners, for example, but I've done a lot of things:  visited a sex club, used a variety of sex toys, experienced anal sex (giving and receiving), had a threesome, had same-room sex with another couple, rode a Sybian, participated in impact play, ventured into watersports, fucked in front of an audience, had outdoor/risk-of-discovery sex (and been discovered – oops!), played with same-sex partners, etc.  Someone whose *numbers* are the same as (or higher than) mine may have more or less kept to bedroom-only PIV sex and therefore had less adventurous experiences.  That doesn't mean I can't be compatible with that person; it means that we bring different things to the table.  It can be an imbalance, but it's not one I view negatively.  Likewise, sometimes you may run across a partner who has barely had any sex in their life or who has had an otherwise repressed sexual history.  If you yourself were a wild child…  Is it an imbalance?  Yes.  But that doesn't mean you're incompatible.  It means the future is wide open.  You can explore!
Every individual has different needs, curiosities, and desires.  Being able to discuss the What and the Why of those things with your partner is essential to compatibility.  If his idea of Good Sex involves candlelight and wine and an hour's worth of open-mouthed kissing before removing a single item of clothing, but her idea of Good Sex is up-against-the-wall half-clothed frenzied no-holds-barred held-by-the-throat fast furious spit-lube fucking…
Well, let's just say:  Somebody is bound to be disappointed.
There are a lot of things to learn about a partner when determining compatibility, and while trial-and-error is an age-old method of discovery, there's a lot to be said for – gasp! – talking about your preferences.  That means asking about things – even the "simple" things – instead of making assumptions.  Do you like kissing?  How?  Where?  Open-mouthed or closed?  What areas do you *not* enjoy being kissed?  Touched?  What kind of touches do you prefer?  One man's Too Rough is another man's Barely There.  Discuss.  Demonstrate.  Question.
How do you feel about anal penetration?  What positions do you prefer?  Hate?  Why?  Do you have any health issues your partner should be aware of?  Do you like to be spanked?  Hair pulled?  How do you like your partner to talk to you during sex?  Do you prefer absolute quiet?  What are your thoughts on tit fucking?  Do you enjoy scalping?  What about bondage?  Blindfolds?  Have you ever experienced frottage?  Would you like to?
How well do you know your own body?
From my conversation yesterday:
Me:  One thing, with the question of "better" –
Him:  Yes?
Me:  I'm better at my own body than anyone else, at least as far as what I've already discovered about myself.  And that's a big part of being "good in bed" I think, self knowledge.
Him:  I expect that with most people, you always know yourself better imho.
Me:  Exactly.
I firmly believe that if you don't know your own body, or are not willing to explore your own body, you are doing yourself a huge disservice.  Your partner is not going to know all your magic buttons just by looking at you.  They might find a sensitive spot, or elicit a squeak from you when they touch you in just the right place; they may know where the 'typical' hot spots are and explore you with their lips and fingers in those places.  But unless you know yourself and are willing to share what you know about yourself, those fly-by-night attempts at Doing It Right can be a long, arduous, and sometimes frustrating process.  For both of you.
I know what I like.  I know what I don't.  I know where and how I prefer to be touched.  I know what kinds of touches I respond positively to, and which places on my body are most sensitive.  I know I have a complicated relationship with my breasts.  I know my clit is a skittish Victorian maiden until you stroke her just right.  (Then she's an insatiable French… alley cat.)  I know where my own line between pleasure and pain lies.  I know I prefer pressure to friction for clitoral stimulation.  I know how many fingers I can take, how much lubrication I need, and how deep I prefer my penetration.  I know a great many things about my own body.  Sharing those things with my partner helps him find his way around my pleasure zones.  Essentially I give him a map, he does the same for me, and together we go treasure hunting.  From there, we have the opportunity to strike gold.  (The last time I was with my long distance lover, we discovered a new jewel.  *eyebrow wiggle*)
Communicating your preferences, learning your partner's, knowing your own body and sharing that knowledge with someone who is willing and eager to discover new things with you…  Those are key components to sexual compatibility.
And sexual compatibility is really what being good in bed – together – is all about.
What about you?
Are you usually better in bed than your sexual partners?
How do you define Good In Bed?
.