Is this not the most glorious cock you've ever seen?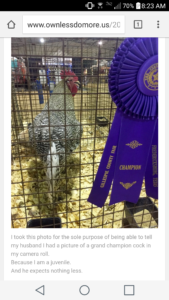 I'm not one for awarding cock shots, but this one is blue ribbon all the way, baby!
TEXT FOR TIRED EYES
I took this photo for the sole purpose of being able to tell my husband I had a picture of a grand champion cock on my camera roll.
Because I am a juvenile.
And he expects nothing less.
I think I have a brain twin…