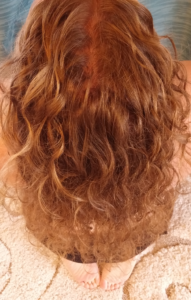 When I was in elementary school, my mother and I had a morning ritual.  Every a.m., before I left for school, she would do my hair.
My mom ran an in-home daycare during those years, and one-on-one time with her was especially hard to come by.  But there was always time – always, regardless of how many rugrats were underfoot or who was throwing cereal at their sibling or which kid was having a screaming fit – there was always time for her to do my hair.
She would meet me at the couch (a horrid orange-ish affair in wool berber plaid with matching pillows and solid wood arm rests that would knock you unconscious should you be so unfortunate as to whack your head on one while mucking about the living room pretending to be an elephant) every morning, pluck the proffered hairbrush and ponytail holders from my hands, and say, "What will it be?"  Sometimes it would be simple – "a high ponytail" (as opposed to a low one – they are two very different things), "pigtails," or "a low braid" (see previous note re: high/low) – and other times it would be more complicated.  "High pigtails with three braids each," for example, was quite an undertaking.  So was a french braid, if only because my mom wasn't highly skilled at the feat.
She'd gamely create whatever 'do I requested though, and off I'd trot to suit up for the walk to school, sporting a high-ponytail-with-three-braids-made-into-a-bun, or occasionally just three barrettes.  Of graduated monochromatic tone.  Only on the right side.
My mother will never pretend to be a hairstylist.  Nor will I ever pretend to be anything but a tomboy.  I was then and still am.  Keeping my locks locked down has never been a priority for me.  It wasn't then, and it isn't now.
But I loved those precious few moments when she was focused only on me in the midst of those crazy childhood mornings, and I reveled in the ritual of getting my hair done.
♥
Once upon a time – for the first 35 years of my life, actually – my hair was long and strong, thick and silky.  Ponying it was a trick.  I could only wrap a fat ponytail elastic around it, and only twice.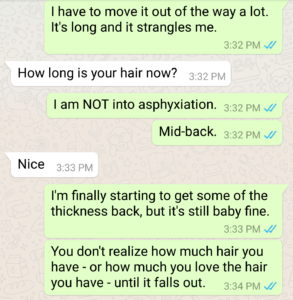 And then one day, it wasn't so thick anymore.  Or so silky.  Double wrapping the elastic became triple, then simply became impossible.  My hair had always been fine (as opposed to coarse), but it was rapidly and unexpectedly losing heft.
Because it was falling out.
I was raised to eschew vanity.  To not put stock in 'prettiness'.  To find my value in traits more lasting than physical attractiveness.  Beauty is fleeting and is not nearly as important as brains or brawn.  It is a lesson I learned well.
Or so I thought.
But unbeknownst to my own mind, I had a weak point.  The one thing about myself that I always considered beautiful – without actually realizing I felt that way about it until it started falling out – was my hair.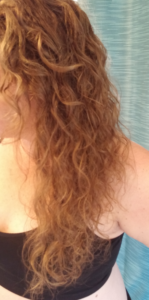 It's grown back now.
Kind of.
Mostly.
But it's different.
It's curlier (kinkier, really – it's too curly to be straight and the curls are too unevenly dispersed to be wavy) than it used to be, and it's finer.  Dryer.  It's a different color too, though how much of that is down to age (I'm guessing that's the reason for the silver streaks) versus being a medicinal side effect (where did all this brown come from?) is hard to say.
I am more careful with it now than I ever was before.  I don't chemically process it, and I don't cut it except for minor trims to blend in the delicate new growth.  I limit its exposure to heat, and I hesitate to stress it by pulling it back too tightly or too often.
♥
But pulling of a different sort…
I do like to have my hair pulled.  But not in a yank-my-hair and smack-my-ass kind of way.  Um, that would be a NO.
Give me gentle tugs with loving fingers, either to assuage an ache (I suffer from migraines), to help me relax, or to offer comfort.  That, I love.
And I love to give my lovers' hair a tug.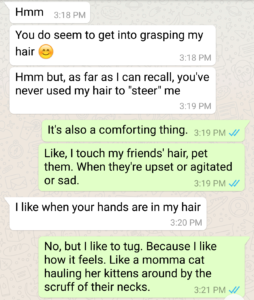 This conversation quickly devolved.
Completely off-topic subsequent texts are included below for your amusement.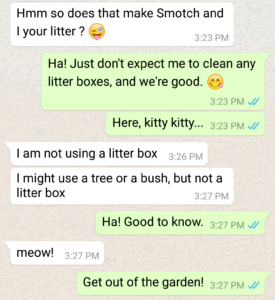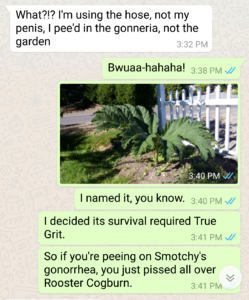 (If you're scratching your head about the gonorrhea thing, it's all makes sense.  Really.  See here.)
We will now continue with your regularly scheduled programming.
Running my fingers through someone's hair is mostly *not* a sexy thing to me.  I say 'mostly' because, of course I put my hands in my partner's hair when we are kissing or cuddling or making love or doing aggressively naked things.  It's a way to share touch, to gently assert dominance (if and when I choose to do so), to wrap myself up – literally, with fingers and fisted hands – in my lover.  And I enjoy that.  Immensely.
But it can also be a very platonic thing for me.  Perhaps it stems from my experience with having my mother's hands in my hair every day during my formative years; perhaps it is because of having experienced the emotional intensity of losing my hair and subsequently nurturing it back to life; perhaps it is for another reason entirely.  The why is uncertain.  But I associate hands in hair – mine in others' or theirs in my own – with calm, with comfort, with care and support.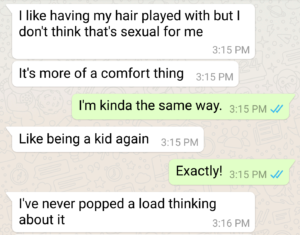 I have held friends of both the same and opposite sex and run my fingers through their hair during times of trial.  If you are one of My People, I will pet you when you need comfort.  Which means brushing hair out of your eyes when you need to be held, holding it back off your face while you cry, stroking my hand over your crown to soothe your shakes, or running my fingers through your tresses to distract you from your worries.
That's not to say hair can't be sexy.  It most certainly can.  And I've had men kink to my hair in various ways over the years.  Length, color, style.  Texture.  Curl.  That sort of thing.  And I don't mind that my hair has, at one time or another, fired various partners' lust(s).  I can work with that.  Knowing what turns my partner(s) on is, in itself, a turn-on for me.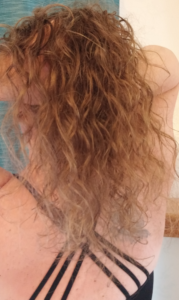 Follicular particulars are not something I personally kink to though.
If we're in a relationship, and you're into the mane attraction, go ahead and tell me that.  Or don't.  To me, the whole "I dig your hair" thing is no different than when someone tells me they like my smile, or the sprinkling of freckles across my chest, or the way my thigh muscles feel wrapped around their head during oral sex.
Okay, maybe it's a little different than that last one.
But not much.  😉
.
How do you feel about hair?
Are there cuts, colors, styles, or textures that turn you on?
.