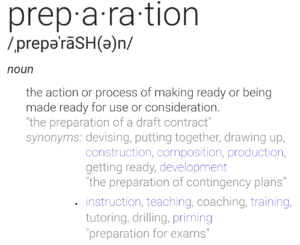 Preparation.  The word is a breathy mouthful exhaled against pursed lips, ending with a stroke of the tongue against the roof of your mouth.
Just saying it makes me want to stroke my tongue against the roof of your mouth.  And over your lips…  Trailing down your neck…
To make you ready.
Ready for use or consideration.  Hmmm…  So many things I could do to ready you for my use.  And I will use you, you know.  Every part of you.  Your lips, your tongue, your fingers, your cock.  Your ass.  Oh, yes that's mine too.  Mine to ready for my pleasure.
Synonym:  Instruction.  Oh I will gladly give you instructions, love.  Where to touch.  How.  The exact place on the side of my clit you need to lick.  The exact pace that will keep me on edge.  Precisely where to put your tongue, how softly to flick.  How deep to thrust your fingers up inside my cunt.  When to cover me with your mouth.  How tenderly to suck.  How strong to stroke.
Training.  Mmmhmmm…  Sexual training.  Physical, mental.  You'll learn stamina.  And you'll find out just exactly how far I can go.  "Done" is not in my vocabulary.  No.  No no no.  I can – and will – stretch us both to our limits and still not quit.
Drilling.  Oh fuck yes.  Of course, what comes to mind is not the 'drilling' that means 'skill practice' (though there are so many delightful skills to practice, especially in the arts of pleasure) but rather, a different drilling all together.  The way your fingers drill and scissor inside my welcoming heat.  The way my muscles snug against your cock, clamping against your thrust as you try to move inside me, fighting for every inch of penetration.  The broken-open feeling that floods my body when you hold my hips and pull me hard against your push, kissing my cervix with your tip, piercing the entrance to my womb and demanding access.
You can be quite demanding, you know.
But I can be demanding too.
I think you had best prepare yourself, love.
Preparation.  Such a sexy sexy word.
.