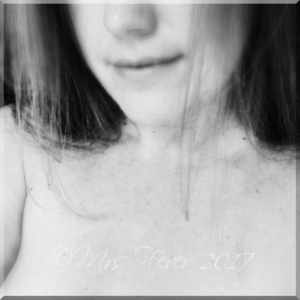 Q:

 WHO IS MRS FEVER?
Short Answer:  The author of this blog.
For a more in-depth answer, and for more information about what you'll find here on this blog, please read on.
A bit about Me:
I am easily entertained (look, a puppy!) and love to laugh.
I excel at eskimo kisses and abhor corn syrup.
I dance in the living room and sing in the shower.
I play with words.
I have a complicated relationship with my body.  Sometimes I write about it.
I have a complicated relationship with my family.  Sometimes I write about that, and some of the reasons for that, too.
I am an introvert.
I am bilingual.
I like to read and I like to write.  I like to travel.  I like food.  I like orgasms.  Being able to combine all those things is one of the best parts of blogging.
I am sex-positive.  I write primarily about love, sex, and relationships.  Which means you will find explicit material here, including my thoughts and experiences around multiamory, D/s dynamics, and kinks/fetishes.  Yes, you will find occasional flashes of Skin.  Yes, you will find erotic content.  You will also find liberal helpings of intellect and emotion, because thinking and feeling are part of being human.  And human are we all; I do not pretend otherwise.
Oscar Wilde once said that everything is about sex except sex.  That sex is about power.  To which I say:  It's all about LIFE.  That's what this blog is about.  My life.
What else?
My husband is the source of much inspiration and entertainment, and I write about him often.  Our relationship is a bit unconventional.  We get along better for it, and I love my Mister dearly (even when he drives me batshit insane).  For better or worse and all that jazz.
A bit about Us: 
In the morning we wake like bears coming out of hibernation.  We say ridiculous things to each other.  Particularly in the middle of the night.  We strive for balance, which is both easier and more difficult with time.
We make mistakes.
We make love.
We make each others' lives better.
We've formed a mutual adoration society with our pets (we love them, so we feed them, so they love us, so we love them…the wheels on the bus go 'round and 'round…), two of whom – sadly – we've lost since the inception of this blog.
Fitness…  Well, some ways of working out are more fun than others, yes?  (And some forms of sport are not actually 'sports' at all.  Heh.)  You won't find either of us in a gym, at least not voluntarily.  But we are particularly fond of exercising the muscles in our heads (which is part of the reason we don't hold a subscription to cable television).
If you would like to know a bit more about me, or about how this blog came to be, click the applicable links.  Please make use of the search bar if you are looking for something in particular, AND
/OR
If you are shy or curious or just have a question or comment that you prefer to share personally, feel free to contact me using the form below.  If you would like to commission me to write for you, kindly do the same.